You're reading a book about gardening so you can plant a vegetable garden. How do you glean the information you need from the text and learn what you need to learn? You might:
Use text features as cues

Scan the text for the information you need

Underline words and phrases

Make connections to past experiences or other learning

Organize the information, perhaps into items to purchase, actions that happen first, etc.
These are cognitive strategies that you might take for granted: they're the keys to learning. Students who possess these strategies will learn more quickly and easily.
The Learner-Active, Technology-Infused Classroom is a complex, student-driven learning environment with many components, including (read from the bottom up):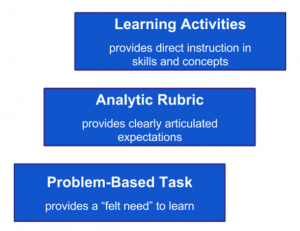 Often, students are all engaged in different learning activities or applying learning to solve problems. Given you're not teaching the entire class the same skill at the same time, as it's rare that all students need or are ready for the same skill at the same time, how do you ensure that each of your students is positioned to learn?
Cognitive strategies are an important part of learning; these are the strategies upon which students will draw repeatedly across the day. As with many of the structures in the Learner-Active, Technology-Infused Classroom, students need both opportunities to learn and a structure to monitor that learning.
To allow students to self-assess and monitor their own learning of cognitive strategies, create an age-appropriate cognitive strategies chart with the strategies that will be most beneficial to your students. You can find a template on the IDEportal (use page 2).

To teach cognitive strategies, first use a Benchmark Lesson to introduce the idea of cognitive strategies. You might use a metaphor such as relating cognitive strategies to tools, which are used to build larger structures.  Then use How-To sheets or screencasts to provide direct instruction in their use. Hold a Small-Group Mini-Lesson for those who need more specific instruction from you.
Reference cognitive strategies in other learning activities, reminding students to use specific strategies and asking students to reflect on the strategies they used. Students who can explain a cognitive strategy and how to use it can become Peer Experts and help others.
It is important to deliberately teach students the cognitive strategies they need to learn. The more they know how to learn, the more they will learn. Go change the world!