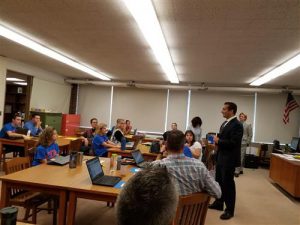 Mr. Martin D. Cox, superintendent of Clarkstown Central School District attended the first day of an IDE Corp. Learner-Active, Technology-Infused Classroom workshop for teachers.  Mr. Cox shared his experience in his blog on the district website.
TR Rathjen, Instructional Strategies Specialist, launched the day in the Felix Festa Middle School library, the first of six sessions, with a quote from Albert Einstein, "I never teach my pupils. I only attempt to provide the conditions in which they can learn." Mr. Cox described this as "a powerful way to begin a training workshop".
In his blog post, Mr. Cox also shared a quote from Dr. Michael St. John, Secondary Curriculum Coordinator, who said "at today's session, TR provided a powerful experience, modeling the LATI Classroom and engaging our teacher participants as if they were students within the model".  Dr. St. John continued, claiming that "it was an exciting and enriching day for our teachers".
Learn more about the Learner-Active, Technology-Infused Classroom.
Founded by Dr. Nancy Sulla, IDE Corp. offers a comprehensive instructional model that is the synthesis of the best research available on student achievement. IDE consultants work with school districts around the country to help them shift paradigms and design new approaches to instruction.  IDE Corp. has been providing instructional and organizational consulting to schools since 1987.