Making Black History Count was the topic of the January 28, 2021, episode of the internet talk show "Learning Unwrapped". Host Dr. Nancy Sulla and her co-host Shané Beauford welcomed an esteemed panel of guests to discuss Black History Month. "For far too long, black people have been left out of history books, in spite of the many accomplishments that have built nations and caused them to thrive. And while Black History Month shines a light on some, it's time to restore the black voice to history and hear of the many, many who have played a role throughout history … not just for a month, but every day, all year long. After all, Black History is global history," explained Dr. Sulla.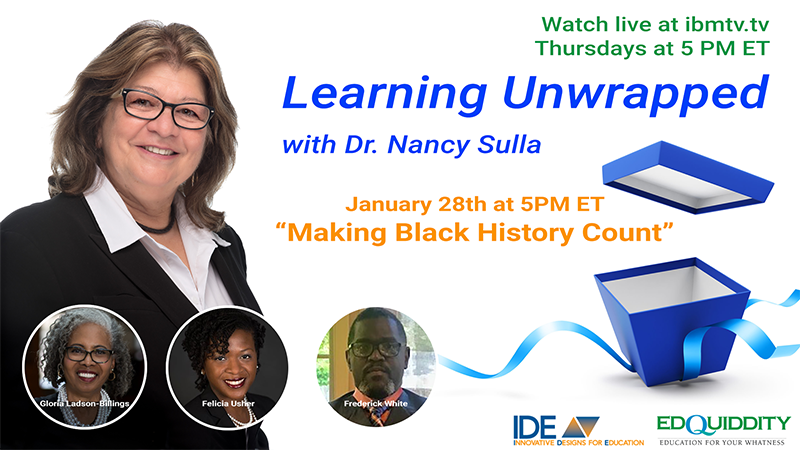 The featured guests on this weeks episode were:
Dr. Gloria Ladson-Billings is a renowned scholar, teacher educator, and author of the groundbreaking book The Dreamkeepers: Successful Teachers of African American Children. She is the former Kellner Family Distinguished Chair in Urban Education at the University of Wisconsin–Madison where she served on the faculty for 26 years. She has served as the president of the National Academy of Education and the American Educational Research Association as well as the former editor of the American Educational Research Journal.
Felicia Usher is an elementary school principal in Fairfax County Public Schools. She has a passion for ensuring students of every economic and social background feel supported and have the tools to achieve at high levels in any field. Felicia pursues opportunities for her students to engage in authentic learning that is reflective of the diverse culture of the students and staff at her school. She challenges herself and her staff to reflect and refine their practices to create an environment focused on delivering high-quality instruction and building a true school community with students and families. Felicia has been selected as the Fairfax County Region 2 Principal of the Year for the 2020–2021 school year.
Dr. Frederick White has served as a leader in the educational field for 21 years and authored the book The Skin You Are In: Colorism in the Black Community. Dr. White has also spent the past twelve years serving as an AVID staff professional development instruction. Dr. White is a graduate of the Shelby State Community College where he obtained an associate of science degree. Then went on to the University of Memphis, where he earned his bachelor of science in education degree, a master of education degree with an emphasis in K–12 administration and supervision from Freed Hardeman University, and obtained a doctorate in educational leadership from Trevecca University. Currently, Dr. White serves as principal of a middle school in the Shelby County School system in Tennessee.
Public Open Dialogue TV is a global web channel "for the people by the people." PODTV.TV is an independent, not-for-profit company that exists to serve underserved communities (such as learning, the chess community, African music, podcast, startups, etc.) by bringing unique programs around the world to the public.
Founded by Dr. Nancy Sulla, IDE Corp. offers a comprehensive instructional model that is the synthesis of the best research available on student achievement. IDE consultants work with school districts around the country to help them shift paradigms and design new approaches to instruction. IDE Corp. has been providing instructional and organizational consulting to schools since 1987.