IDE Corp. was featured in a January 16 Wall Street Journal article, "Are Videogames the Future of Remote Work?". Writer Christopher Mims visited IDE's virtual Gather.Town offices and met with Dr. Nancy Sulla, founder and president of IDE, in the virtual "lobby." They toured the virtual space, speaking with several IDE employees who shared their virtual work experiences.
IDE Corp. uses a Gather.Town virtual office space to simulate the collaborative and innovative physical office space it enjoyed prior to implementing COVID-19 pandemic-related social-distancing safety measures. The IDE Gather.Town virtual environment creates of sense of presence and community, helping IDE to preserve its productive and collegial work culture.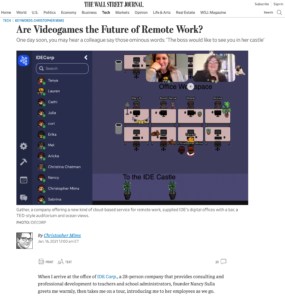 Gather is building virtual spaces for people to live and interact more effectively online. It combines video-calling with a 2D map, letting you walk around and talk to the other people right next to you. Creation tools also let you make your own custom, interactive spaces.
Founded by Dr. Nancy Sulla, IDE Corp. offers a comprehensive instructional model that is the synthesis of the best research available on student achievement. IDE consultants work with school districts around the country to help them shift paradigms and design new approaches to instruction. IDE Corp. has been providing instructional and organizational consulting to schools since 1987.