Nancy's NEW internet TV talk show, Learning Unwrapped, launched on December 10, 2020. Broadcasting live on Thursdays at 5:00 PM ET, Nancy focuses each week on one aspect of life's most important skill: LEARNING. Learning Unwrapped broadcasts through Public Open Dialogue TV and is live-streamed on YouTube.
For the first episode of Learning Unwrapped, the topic was "Engagement." Shané Beauford, Director of Educational Equity at IDE Corp., was the co-host. Nancy created an international panel of guests from diverse fields that included Amelia Larson, executive vice president of the American Reading Company; Reed McMurray, 2nd-grade teacher at Fernbrook Elementary School in Randolph, NJ; and Pete Sturgess, National Lead Coach for the Football Association in the United Kingdom.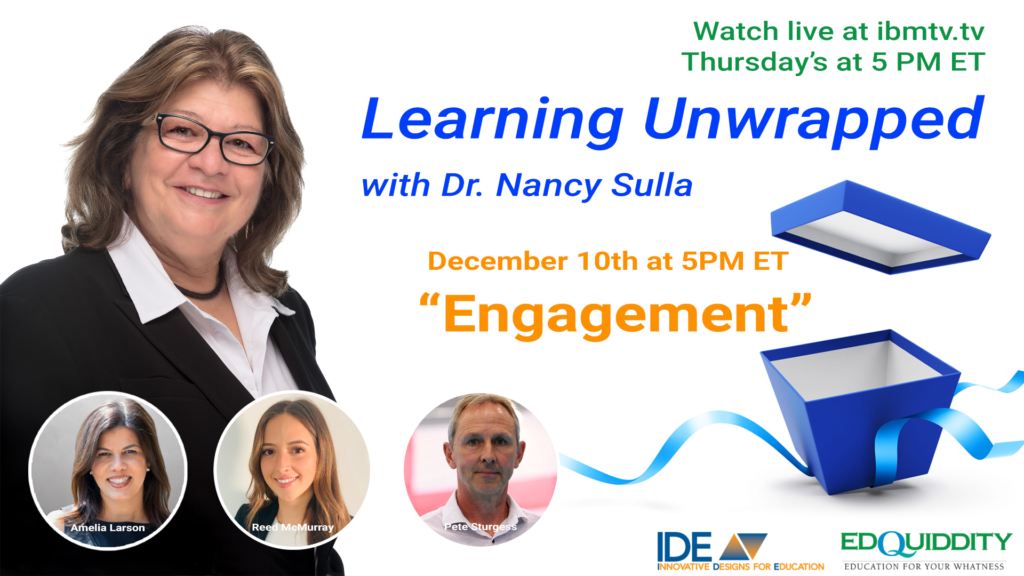 International Broadcast Media TV is a global web channel "for the people by the people." IBMTV.TV is an independent not-for-profit company that exists to serve underserved communities (such as learning, the chess community, African music, podcast, startups, etc.) by bringing unique programs around the world to the public.
Founded by Dr. Nancy Sulla, IDE Corp. offers a comprehensive instructional model that is the synthesis of the best research available on student achievement. IDE consultants work with school districts around the country to help them shift paradigms and design new approaches to instruction. IDE Corp. has been providing instructional and organizational consulting to schools since 1987.