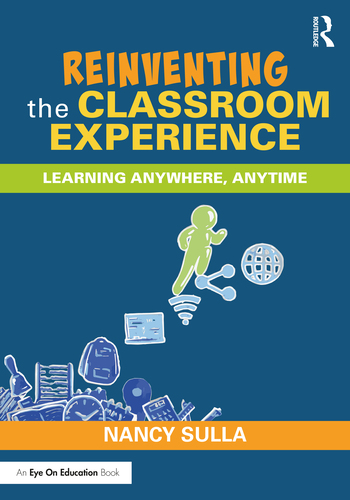 Dr. Nancy Sulla's 6th and latest book, Reinventing the Classroom Experience: Learning Anywhere, Anytime, is now available for preorder from Routledge Publishing for delivery after May 30, 2021.
In this book, Dr. Sulla explains "how you can reinvent the classroom experience and provide high-quality instruction that works as well at home as it does in school." She explores strategies "to help students build strong work habits and empower them to take responsibility for their learning" and powerful concepts such as "five key types of instructional activities, the power of PBL to increase student engagement and motivation, and five types of synchronous engagement between teachers and students."
Dr. Nancy Sulla is an author, national speaker, and thought leader in transforming learning environments to build student engagement, empowerment, and efficacy. As the creator of the Learner-Active, Technology-Infused Classroom™ and founder of IDE Corp. and EdQuiddity Inc., Dr. Sulla leads her educational consulting firms in the pursuit of equity-focused instructional design, positioning students to change the world. Learn more at nancysulla.com.
Founded by Dr. Nancy Sulla, IDE Corp. offers a comprehensive instructional model that is the synthesis of the best research available on student achievement. IDE consultants work with school districts around the country to help them shift paradigms and design new approaches to instruction. IDE Corp. has been providing instructional and organizational consulting to schools since 1987.