revised 11/17/23
Since the original posting in 2016, the world experienced a pandemic that caused schools to acquire and place computing devices into the hands of every student. Suddenly, many schools became 1:1! But did instruction change? Read on . . .
Change is hard! It requires some paradigm shifting; that is, a rethinking of the "why" in order to decide on the best "how." A new technology, such as the ability to put a computing device into the hands of every student, offers tremendous possibilities. However, unless it's coupled with new thinking, it could just produce a fancier version of the same old approach. This dilemma is not unique to schools, however. Here's a fun look back in time . . .
With the invention of the gasoline-powered engine came the "horseless carriage," better known as the automobile. Prior to this, people used horse-drawn carriages to travel. The picture below is of a 1902 Lambert, among the first automobiles to be manufactured.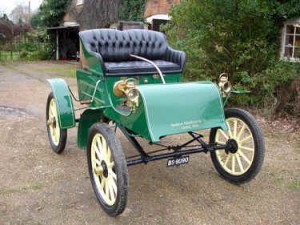 Note that this automobile was steered by a tiller, fastened at the front center of the passenger compartment. Prior to the development of the gasoline-powered engine, the driver held the reins of the horse and moved them from side to side; so now the driver had a metal bar to simulate that movement. Of course, without the horses, there was no need for this sweeping left-right motion, but it felt comfortable and perhaps it was hard to see another way. Within a few years, steering wheels replaced tillers. Note the headlamps. Rather than hanging lanterns on the front of the carriage, the new automobile sported headlamps that looked just like those lanterns. Again, they were soon replaced by larger, round lights.
This picture is a fun look at how, as humans, we tend to fit new technologies into our current way of thinking. If you're involved in a 1:1 technology initiative, be careful to avoid fitting those computing devices into your current "how" of learning. They're not pencils, books, notebooks, or teachers. They have the power to allow us to rethink classroom processes to meet the needs of all learners.
2023 Update …
As a result of the COVID pandemic, many schools now have 1:1 technology. During remote teaching, we found that our clients running Learner-Active, Technology-Infused Classrooms, with fidelity, had no problem switching to remote learning. Students continued to pursue their problem-based tasks, using activity lists for choice and voice in their own learning, managing their own time; teachers facilitated in one-on-one, small-group, and, less frequently, whole group sessions.
Schools spent significant amounts of money outfitting each student with a computing device for remote learning. That equates to tremendous possibilities to rethink "school."
New York state developed a "Teaching in Remote Learning" website for teachers and IDE Corp. consultants developed the Culturally Responsive Education content for it.
I realized that, in the spring of 2020, schools were going to have to reopen in hybrid fashion, so I developed a whitepaper with hybrid teaching models to help in the process.
We're now designing a major city's virtual high school because there are students who would prefer, or need to, learn from a home-based environment.
As schools returned to in-person learning, I have found that teaching practices have in many ways retreated to those of former years. Somehow we've missed the point that a) this can happen again; b) the world is becoming increasingly digital; c) there is a wealth of web-based resources that can be culled for differentiation.
The world did not say, after the production of the 1902 Lambert, "That was a nice ride; now, let's get back to breeding horses for transportation." Schools, too, need to seize the opportunity and teach forward!