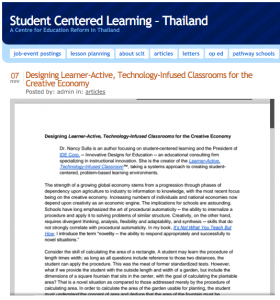 IDE Corp. is pleased to announce that Dr. Nancy Sulla, the founder and president of IDE Corp, and the author of Students Taking Charge and It's Not What You Teach But How  has been published in Student Centered Learning – Thailand, whose mission is "to provide a center of discussion, information and planning for 21st Century education reform in Thailand".
In her article, Designing Learner-Active, Technology-Infused Classrooms for the Creative Economy, Dr. Sulla describes the new creative economy and the shift in mindset required to succeed. "The strength of a growing global economy stems from a progression through phases of dependency upon agriculture to industry to information to knowledge, with the most recent focus being on the creative economy. Increasing numbers of individuals and national economies now depend upon creativity as an economic engine. The implications for schools are astounding," states Dr. Sulla.
Read more on Student Centered Learning – Thailand at http://sclthailand.org/2015/11/designing-learner-active-technology-infused-classrooms-for-the-creative-economy/.