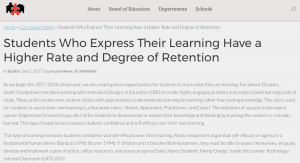 Brian Culot, Ed.D., Assistant Superintendent for Curriculum & Instruction of South Orangetown Central School District in South Orangetown, NY has shared some observations on student retention in his latest blog post. A client of IDE Corp. for several years, Culot describes how the district and IDE have been working "to create highly-engaging problem and project based learning units of study" which provide students "with opportunities to demonstrate learning by teaching rather than testing knowledge".
Culot shares a quote from Dr. Nancy Sulla's book Students Taking Charge, "If children are to become lifetime learners, they must be able to assess themselves, set goals, develop and implement a plan of action, utilize resources, and assess progress."
Read the blog post here.
Learn more about the Learner-Active, Technology-Infused Classroom.
Founded by Dr. Nancy Sulla, IDE Corp. offers a comprehensive instructional model that is the synthesis of the best research available on student achievement. IDE consultants work with school districts around the country to help them shift paradigms and design new approaches to instruction.  IDE Corp. has been providing instructional and organizational consulting to schools since 1987.