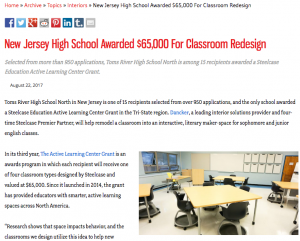 IDE Corp. is proud to announce that IDE client Toms River High School North in Toms River, NJ, has been selected as one of 15 recipients of the Steelcase Active Learning Center Grant. The grant received over 950 applications. Toms River High School will "receive one of four classroom types designed by Steelcase and valued at $65,000."
The article in Facility Executive magazine quotes Craig Wilson, Steelcase Education Director of Market Development. "Research shows that space impacts behavior, and the classrooms we design utilize this idea to help new groups of teachers and students explore the learning possibilities interactive spaces can bring," says Wilson. "The room also aligns with professional training in Learner-Active, Technology-Infused Classrooms™, or LATIC, initiated by Norma DeNoia, the Director of Secondary Curriculum at Toms River North," states the article.
Read the full article here.
Learn more about the Learner-Active, Technology-Infused Classroom.
Founded by Dr. Nancy Sulla, IDE Corp. offers a comprehensive instructional model that is the synthesis of the best research available on student achievement. IDE consultants work with school districts around the country to help them shift paradigms and design new approaches to instruction.  IDE Corp. has been providing instructional and organizational consulting to schools since 1987.