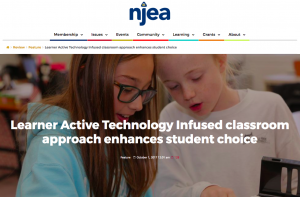 Bobbi Sobel, an elementary classroom teacher at Randolph Township Schools in New Jersey, recently shared her experience of creating a Learner-Active, Technology-Infused Classroom in an article on the New Jersey Education Association (NJEA) website. In the article, titled "Learner Active Technology Infused approach enhances student choice", Sobel describes how students are "presented with meaningful higher order activities that create the desire to learn" and then "schedule their own time" which "fosters collaborative work and the ability to work independently in a timely manner".
She continues, "Students love how they have the power to learn new ideas, concepts and all about themselves as a learner." Sobel exclaims "There are days I am amazed at what happens in my classroom. I love to watch all of my students working on different tasks, in different places in the classroom, with different people, and they are all engaged. It's a beautiful sight!"
Learn more about the Learner-Active, Technology-Infused Classroom.
Founded by Dr. Nancy Sulla, IDE Corp. offers a comprehensive instructional model that is the synthesis of the best research available on student achievement. IDE consultants work with school districts around the country to help them shift paradigms and design new approaches to instruction. IDE Corp. has been providing instructional and organizational consulting to schools since 1987.