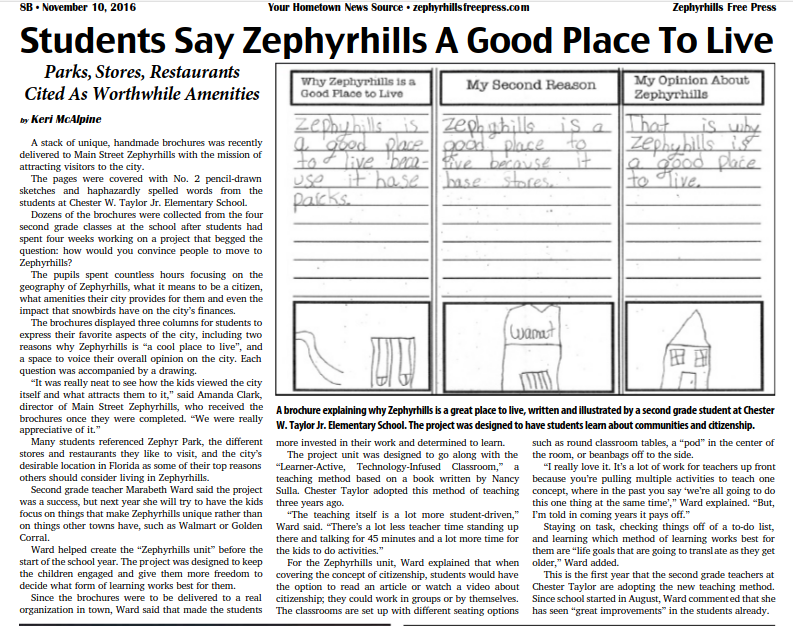 The Zephyrhills Free Press in it's November 10th edition describes how second grade students at Chester W. Taylor Jr. Elementary School in Zephyrhills, Florida created dozens of "unique, handmade brochures" to help encourage tourism to their city.  The brochures are the end product of an authentic and relevant problem-based learning unit developed by teachers during training with the Learner-Active, Technology-Infused Classroom. Based on the book "Students Taking Charge" by Dr. Nancy Sulla of IDE Corp., Chester Taylor Elementary "adopted this method of teaching three years ago".  Second grade teacher Marabeth Ward comments "that she has seen great improvements in the students already".
Ward describes her students as "more invested in their work and determined to learn" and her teaching as "a lot more student-driven". She says her students are learning "life goals that are going to translate as they get older". "I really love it," said Ward.
Learn more about the Learner-Active, Technology-Infused Classroom.
Founded by Dr. Nancy Sulla, IDE Corp. offers a comprehensive instructional model that is the synthesis of the best research available on student achievement. IDE consultants work with school districts around the country to help them shift paradigms and design new approaches to instruction.  IDE Corp. has been providing instructional and organizational consulting to schools since 1987.