IDE Corp. President Dr. Nancy Sulla received an award for her new internet TV show, Learning Unwrapped. In just its fourth week, the show has brought inspirational and informative voices from around the world and across sectors to focus on life's most important life skill: learning! 
International Broadcast Media TV hosted the IBMTV Awards 2020 on December 30, 2020, and Dr. Sulla won in the category of Excellence in Education Learning. View the segment where Nancy accepts the award on the IBMTV Channel on YouTube.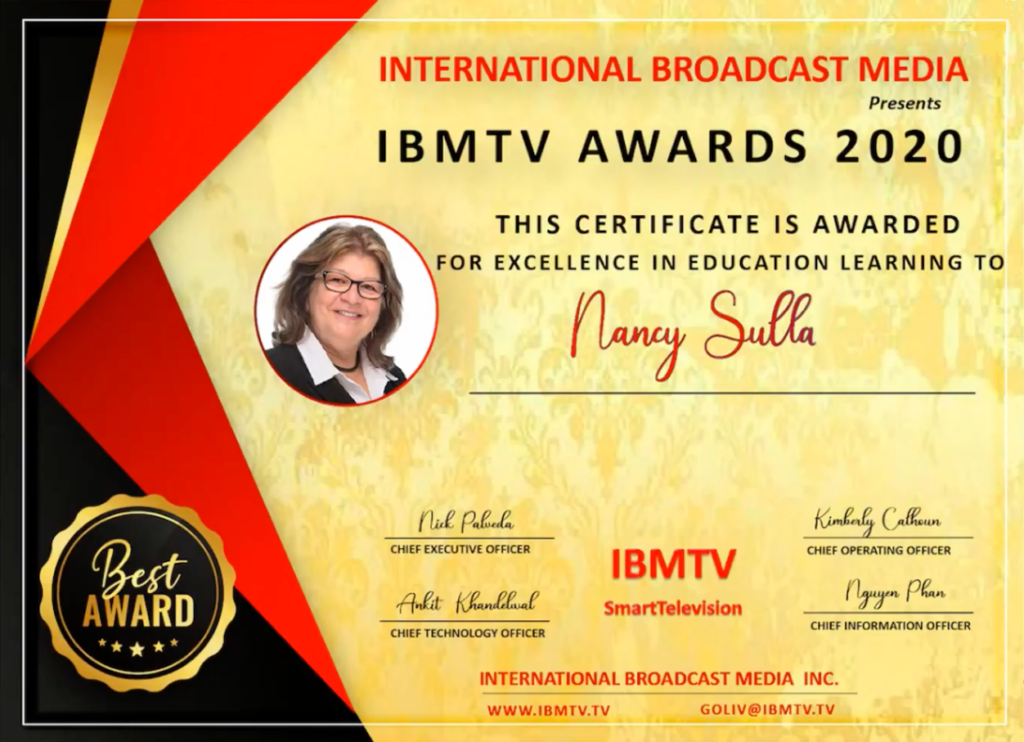 Upon receipt of her award, Nancy said, "I believe learning empowers us all. It is the path to world peace; it is the caretaker of the Earth; it is the weaver of a strong, global economy; it is the trajectory out of poverty. Learning is one's most important life skill. I am honored to be a part of IBMTV's lineup. May we all never stop learning."
International Broadcast Media TV is a global web channel "for the people by the people." IBMTV.TV is an independent, not-for-profit company that exists to serve underserved communities (such as learning, the chess community, African music, podcast, startups, etc.) by bringing unique programs around the world to the public.
Founded by Dr. Nancy Sulla, IDE Corp. offers a comprehensive instructional model that is the synthesis of the best research available on student achievement. IDE consultants work with school districts around the country to help them shift paradigms and design new approaches to instruction. IDE Corp. has been providing instructional and organizational consulting to schools since 1987.