The paradigm shift to creating student-driven classrooms.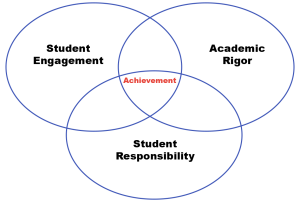 No amount of strategies presented to teachers will improve instruction without a shift in teachers' belief systems. For example, teachers can be taught to utilize a variety of differentiation strategies; but unless the teachers truly believe that it is their responsibility and within their capacity to ensure that all students succeed, those strategies will fail.
Raising academic rigor, actively engaging students in learning, and building greater student responsibility for learning are worthy goals. At IDE Corp., we accomplish these goals through the Learner-Active, Technology-Infused Classroom™. As described in Students Taking Charge by Dr. Nancy Sulla, students engage in real-world problems that provide a "felt need" for building curricular skills and concepts. They learn independently and collaboratively with classroom colleagues and others around the world. They use technology seamlessly as a tool for learning. They manage projects, set goals, assess progress, identify resources for learning, and more.
The Ten Principles
The Learner-Active, Technology-Infused Classroom™, is based on ten guiding principles, which research shows are present in successful classrooms. The Ten Principles are not part of a packaged product or based upon one theorist's research. They have emerged from years of observing successful teachers, the most recent data on how children learn, and the best practices in curriculum and instruction.
1. Learning From a Felt Need – Students are presented with meaningful, higher-order activities that create the context for learning and build a "felt need" to learn the lower-order skills.
2. High Academic Standards – All students are expected to achieve at high levels utilizing the teacher, peers, and other resources to meet with success.
3. Higher-Order, Open-Ended Problem-Solving – Problem-Solving activities are the focus of the learning environment, setting a context within which to learn lower-order skills.
4. Student Responsibility for Learning – Students take responsibility for setting goals, scheduling time, utilizing resources, and making other decisions.
5. Connected Learning – Students see learning as being connected across the disciplines, to the "real world," and to their own lives.
6. Collaboration – Students engage in collaborative problem-solving on open-ended problems with peers, working independently on subtasks.
7. Individual Learning Paths – Teachers differentiate instruction and assignments to meet the needs of each individual learner.
8. High Social Capital – Students have strong, consistent relationships with adults in school; parents and other adults are involved as partners in the learning process.
9. Technology Infusion – Technology is used as a tool and a resource to support learning and not seen as a goal unto itself.
10. Global Citizenship – Students understand their role as contributors to a global society and make strides to contribute to the betterment of their world.
---
VIDEO: Take a look inside South Orangetown, NY Learner-Active, Technology-Infused Classrooms to see how problem-based learning engages students and builds creative and critical thinking, collaboration and communication skills.
VIDEO: A look at elementary, intermediate, and high school Learner-Active, Technology-Infused Classrooms in White Plains, NY schools.
VIDEO: Chester Taylor Elementary School in Pasco County, FL reflects on year one of implementation of Learner-Active, Technology-Infused Classrooms.
VIDEO: Learner-Active, Technology-Infused Classrooms at Chester Taylor Elementary in Pasco County, FL.
VIDEO: Croton-Harmon, NY teachers and students share their thoughts and successes in designing Learner-Active, Technology-Infused Classrooms.
IDEportal RESOURCE: The 10 Principles