A Systems-Based Instructional Framework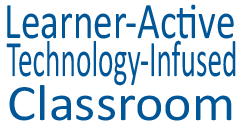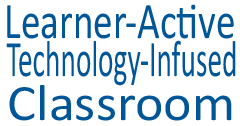 We believe that the goal of schools should be Efficacy . . . which begins with Empowerment . . . which begins with Engagement. Efficacious students can change the world!
At IDE Corp., we accomplish these goals through the Learner-Active, Technology-Infused Classroom™.
---
As described in Students Taking Charge by Dr. Nancy Sulla, students engage in real-world problems that provide a "felt need" for building curricular skills and concepts. They learn independently and collaboratively with classroom colleagues and others around the world. They use technology seamlessly as a tool for learning. They manage projects, set goals, assess progress, identify resources for learning, and more!
"The Learner-Active, Technology-Infused Classroom™ is a framework that includes problem-based, Authentic Learning Units (ALUs), a collection of structures that put students in charge of their own learning, and powerful teacher facilitation of learning" (Sulla, 2019).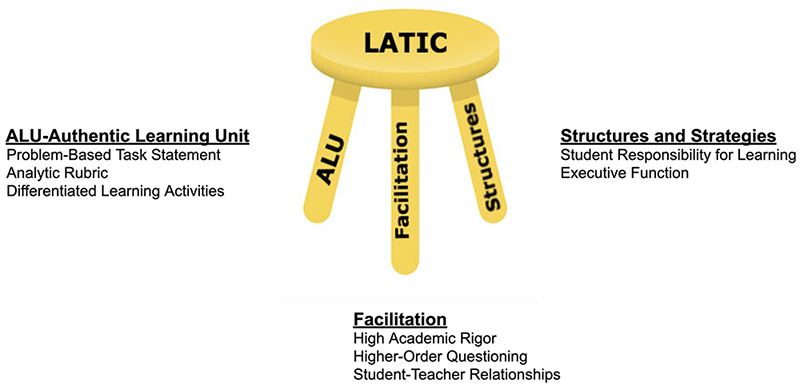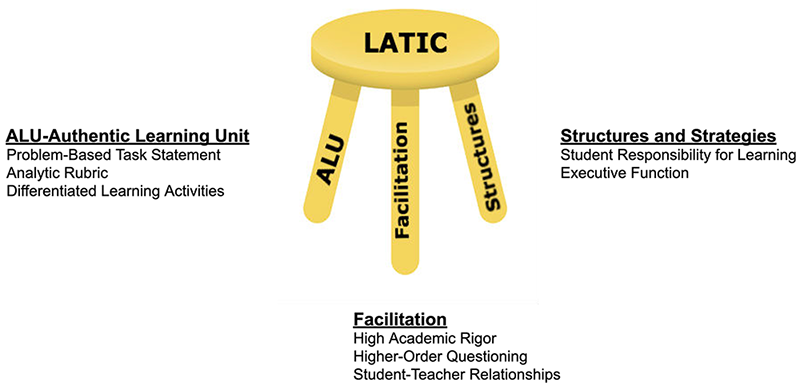 The Four Paradigm Shifts to Creating Student-driven Classrooms
1. From Teacher as Ferry to Teacher as Bridge Builder
Teachers present problem-based tasks at the start of a unit to motivate and challenge students.
Teachers provide analytic rubrics to present clearly articulated expectations to drive instruction and allow students to self-assess.
Teachers design learning and practice activities and develop an activity list to provide students with varied opportunities to learn.
Teachers have students schedule time to allow them to map out a plan for success.
2. Building Felt Need
The flipped triangle approach moves teachers to focus on application first, instead of skills.
Teachers consider a chunk of curriculum (4–6 weeks) and the problems students could solve if they mastered it, then design a problem-based task to drive instruction at the start of the unit.
Teachers provide opportunities to learn skills, concepts, and content as they are needed to address the overarching problem-based task.
3. Leading Learning by Triggering Awareness
Teachers use the whole-class benchmark lesson to trigger students' awareness of what they need to learn.
Teachers inspire students, then lead them toward learning through their own engagement with content.
Teachers ask a "what if?" question to trigger awareness of new content.
Teachers offer a "did you know . . ." to trigger awareness of new content.
4. Don't Grade the Learning Process
Throughout the unit, teachers guide the students' learning.
Teachers offer feedback and suggestions, celebrating students' successes.
If the teachers were to grade the product, then they would really be grading themselves.
Instead of grading the learning experience, teachers offer a testing situation (e.g., transfer task) to grade
individual content mastery.
The Ten Principles
The Learner-Active, Technology-Infused Classroom™ is based on ten guiding principles, which research shows are present in successful classrooms. The Ten Principles are not part of a packaged product or based upon one theorist's research. They have emerged from years of observing successful teachers, the most recent data on how children learn, and the best practices in curriculum and instruction.
1. Learning From a Felt Need — Students are presented with meaningful, higher-order activities that create the context for learning and build a "felt need" to learn the lower-order skills.
2. High Academic Standards — All students are expected to achieve at high levels utilizing the teacher, peers, and other resources to meet with success.
3. Higher-Order, Open-Ended Problem-Solving — Problem-solving activities are the focus of the learning environment, setting a context within which to learn lower-order skills.
4. Student Responsibility for Learning — Students take responsibility for setting goals, scheduling time, utilizing resources, and making other decisions.
5. Connected Learning — Students see learning as being connected across the disciplines, to the "real world," and to their own lives.
6. Collaboration — Students engage in collaborative problem solving on open-ended problems with peers, working independently on subtasks.
7. Individual Learning Paths — Teachers differentiate instruction and assignments to meet the needs of each individual learner.
8. High Social Capital — Students have strong, consistent relationships with adults in school; parents and other adults are involved as partners in the learning process.
9. Technology Infusion — Technology is used as a tool and a resource to support learning and not seen as a goal unto itself.
10. Global Citizenship — Students understand their role as contributors to a global society and make strides to contribute to the betterment of their world.
---
VIDEOS
"ERCSD 2019 Summer Bridge Program" by East Ramapo Central School District
"How Does the Learner-Active, Technology-Infused Classroom Benefit Students" by the White Plains Public Schools
"Students Take Active Role in Classroom Through Innovative Designs for Education" by the Bronxville School
Chester Taylor Principal Julie Marks is a co-author of Students Taking Charge Implementation Guide for Leaders.
"Beginning the Journey to Learner-Active Classrooms at Chester Taylor Elementary" by Pasco County Schools
"Reflecting on Learner-Active, Technology-Infused Classrooms at Chester Taylor Elementary" by Pasco County Schools
"Learner-Active, Technology-Infused Classrooms at Chester Taylor Elementary" by Pasco County Schools
"Learner-Active, Technology-Infused Classrooms Year Two at Chester Taylor Elementary" by Pasco County Schools
"LATIC Year Three at Chester Taylor Elementary" by Pasco County Schools
"Chester Taylor Elementary Learner-Active, Technology-Infused School" by Pasco County Schools
"Mission: Engage! Problem-Based Learning" by the South Orangetown Central School District
"Centennial STEM Magnet Middle School" by Pasco County Schools
"Bayonet Point STEM Magnet LATIC School" by Pasco County Schools
"Learning About Energy in the 3rd Grade Learner-Active, Technology-Infused Classroom" by Pasco County Schools
"Making Learning Meaningful. Authentic Learning at Schrader Elementary" by Pasco County Schools
"Structures of a LATI Classroom at Sanders Memorial Elementary" by Pasco County Schools
"Learner-Active, Technology-Infused Classrooms Spring 2016″ by White Plains Public Schools