Nyack Public Schools in Nyack, NY, has released a new video showcasing the commitment of its faculty, administration, board of education, and community to ensuring that every student succeeds. The featured video on the district home page describes the positive outcomes the Learner-Active, Technology-Infused Classroom has had in the district.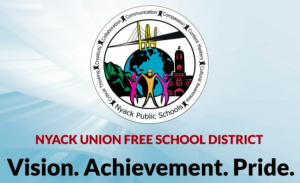 "To educate kids today it's important to really understand what kinds of competencies that are important. Collaboration, and critical thinking, and communication, and creativity. Kids are natural learners, they are naturally curious. We are trying to recapture that in the Nyack schools," says Superintendent Dr. James Montesano.
"We made the pedagogical and philosophical shift to the Learner-Active, Technology-Infused Classroom," says Assistant Superintendent for Curriculum, Instruction, and Personnel Dr. Winsome Gregory. "It offers students the chance to take charge of their own learning."
"I've seen great growth and results", says Christina Clark, a 3rd-grade teacher at Valley Cottage Elementary School. "Kids are excited to come to school every day, they want to be here. Not because they have to be here but because they want to learn."
"Student-driven learning allows students the opportunity to innovate" explains Ben Turner, a 7th-grade science teacher at Nyack Middle School. "They can truly reach their best potential."
Visit the Nyack Public Schools website home page and play the featured video halfway down the page.
Learn more about the Learner-Active, Technology-Infused Classroom.
Founded by Dr. Nancy Sulla, IDE Corp. offers a comprehensive instructional model that is the synthesis of the best research available on student achievement. IDE consultants work with school districts around the country to help them shift paradigms and design new approaches to instruction. IDE Corp. has been providing instructional and organizational consulting to schools since 1987.