Happy New Year! The January return to school is always accompanied by resolutions and energized educators looking to continue to make that difference in the lives of their students. It's also a time when people are determined to take time to take care of themselves: going to the gym, daily meditation, reading more novels, etc.
My last blog post of 2016 focused on the quest for innovation. For my first of 2017, I thought I'd use meditation as a metaphor for teaching. The purpose of meditation is to achieve deeper levels of consciousness, positioning one for greater success and happiness. The purpose of teaching is to achieve deeper levels of learning and understanding, positioning one's students for greater success and happiness.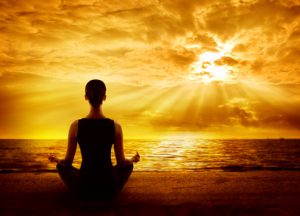 When meditating, you sit up very straight, elongating your spine, which takes deliberate effort. However, you then begin to relax most of your muscles, from your head down to your toes. The infrastructure of your spine supports you; the part of your body that expends energy to work and move relaxes into a calm state. I like to think this describes a well-run Learner-Active, Technology-Infused Classroom.
The "spine" of the classroom is the infrastructure you put in place: the problem-based tasks, rubrics to guide students, activity lists, how-to sheets and videos, resource area, help board, peer expert board, and more. Setting up your infrastructure takes deliberate effort. However, the "muscles" that you have used to ensure everyone is working, gather students, give directives, handle behavioral issues, hand out papers, etc., can now relax, knowing that the students' actions are supported by the infrastructure. That leaves you to now relax into the classroom environment and use your mind to help move students to deeper levels of understanding through your facilitation.
You can observe students in action; ask clarifying questions to assess their level of understanding; ask higher-order, probing questions to push their thinking; offer suggestions for their work plans; offer instruction when they're stuck; and more. If the spine is strong, the muscles can relax. So, to enjoy the mental stimulation and conversations between teacher and student in the classroom, take steps to strengthen your infrastructure.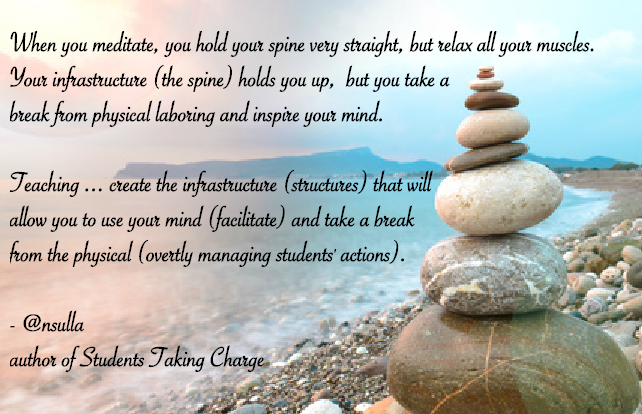 Wishing you all the best for 2017!