The new, second editions of Dr. Nancy Sulla's landmark book Students Taking Charge: Inside the Learner-Active, Technology-Infused Classroom are now available through Routledge or Amazon. The first edition of the book, which introduced the Learner-Active, Technology-Infused Classroom™ to the world, has now become two separate volumes, a grades K–5 edition and a grades 6–12 edition.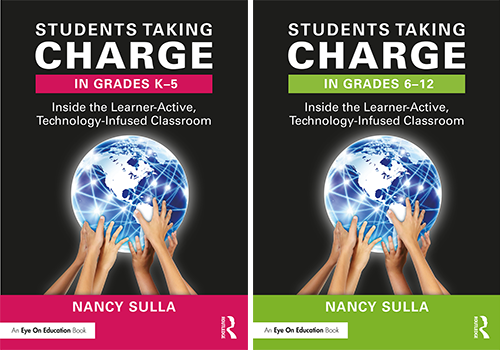 These two new, grade-specific editions of Students Taking Charge, with their practical examples and step-by-step guidelines, show how to create student-driven classrooms that empower learners through problem-based learning and differentiation, where students pose questions and actively seek answers. Technology is then used seamlessly throughout the day for information, communication, collaboration, and product generation.
Learn more about the Learner-Active, Technology-Infused Classroom.
Founded by Dr. Nancy Sulla, IDE Corp. offers a comprehensive instructional model that is the synthesis of the best research available on student achievement. IDE consultants work with school districts around the country to help them shift paradigms and design new approaches to instruction. IDE Corp. has been providing instructional and organizational consulting to schools since 1987.