"The history of classroom design has been to focus on teaching . . . ; but what if, instead, we design classrooms that focus on learning . . . ?" asks Dr. Nancy Sulla in her latest article, "Designing Educational Spaces That Support Executive Function" in the Fall 2018 issue of Essentials magazine.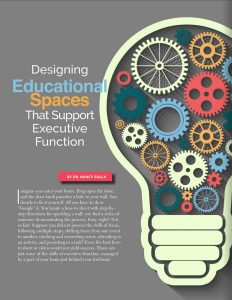 "Executive function skills are not strengthened through lessons as much as they are through classroom structures and continued use," Dr. Sulla explains. "Next time you consider designing educational spaces, whether a classroom or entire school, consider how the physical space can promote greater executive function toward increased student achievement."
Learn more about "How the Learner-Active, Technology-Infused Classroom™ Builds Executive Function" with a free resource on the IDEportal.
Founded by Dr. Nancy Sulla, IDE Corp. offers a comprehensive instructional model that is the synthesis of the best research available on student achievement. IDE consultants work with school districts around the country to help them shift paradigms and design new approaches to instruction. IDE Corp. has been providing instructional and organizational consulting to schools since 1987.