Dr. Robert Pritchard, the Superintendent of Schools in South Orangetown, NY, shared the role of IDE Corp. during the coming school year in a September 25 article in the Rockland County Times. "In the Learner-Active Technology-Infused Classroom (LATIC), students engage in real-world problems that provide an opportunity to build skills and concepts by learning independently and collaboratively with their classmates," he said. "Every year, more teachers are put through LATIC instruction in the summer so they can include project learning in their English, social studies, math, and science lesson plans."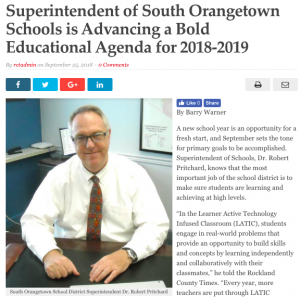 "During the opening day ceremony, Dr. Nancy Sulla spoke about developing learning environments to support Learner-Active, Technology-Infused classrooms that promote problem-based learning," Dr. Pritchard continued.
Learn more about the Learner-Active, Technology-Infused Classroom.
Founded by Dr. Nancy Sulla, IDE Corp. offers a comprehensive instructional model that is the synthesis of the best research available on student achievement. IDE consultants work with school districts around the country to help them shift paradigms and design new approaches to instruction. IDE Corp. has been providing instructional and organizational consulting to schools since 1987.