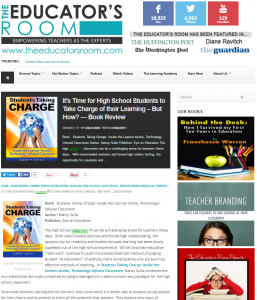 Cari Harris, writer for The Educator's Room, a group dedicated "to improving education by recognizing that the real experts, classroom teachers, are needed at the table of educational reform", has reviewed Dr. Nancy Sulla's book Students Taking Charge.
Ms. Harris declares "this is not just pie-in-the-sky thinking" and "the practical nature of this book makes for easy reading for busy teachers, but also offers actual rubrics, useful scaffolding plans, and ideas for assessments and common core connections that are essential to planning".  She continues, saying the book "offers dynamic ideas and ways to make big or small changes" and "is versatile no matter where or how you teach".
Read more on The Educator's Room at http://theeducatorsroom.com/2013/03/its-time-for-high-school-students-to-take-charge-of-their-learning-but-how-book-review/.