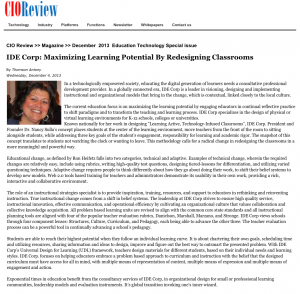 IDE Corp. is proud to be selected by CIO Review as one of 20 Most Promising Education Solution and Consulting Providers for 2013.
CIO Review describes the leadership at IDE as striving to "ensure high quality service, instructional innovation, effective communication, and operational efficiency by cultivating an organizational culture that values collaboration and collective knowledge acquisition".
Read more on CIO Review at http://education.cioreview.com/vendor/2013/ide_corp.