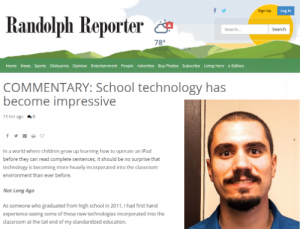 In a recent Randolph Reporter article, editor Mike Montalto, visits the Canfield Avenue School in Mine Hill, NJ and observes that when educational technology is implemented through the Learner-Active, Technology-Infused Classroom, it "can give students a new perspective on problem solving".
Having graduated from high school in 2011, Mr. Montalto reflects on his own experience with the evolving educational technology and describes his teachers then as "not fully aware on how to fully take advantage of these technologies to benefit their students". He describes how "the technology was never utilized to its full potential" and there was not "serious thought into how these new classroom tools could be best used to enhance and transform the learning experience for children".
Mr. Montalto, states Canfield Avenue School now "not only appears to own the latest technologies for the classroom environment, but also has a plan to incorporate it into teachers plans and is effectively changing the way that courses can be taught". He claims this will produce a "generation of students who will enter the world after completing their traditional schooling with a firm grasp on a variety of technologies, a better understanding of the developing world around them and a new approach to problem solving and critical thinking with technology as an invaluable tool and resource".
Learn more about technology infusion in the Learner-Active, Technology-Infused Classroom.
Founded by Dr. Nancy Sulla, IDE Corp. offers a comprehensive instructional model that is the synthesis of the best research available on student achievement. IDE consultants work with school districts around the country to help them shift paradigms and design new approaches to instruction.  IDE Corp. has been providing instructional and organizational consulting to schools since 1987.