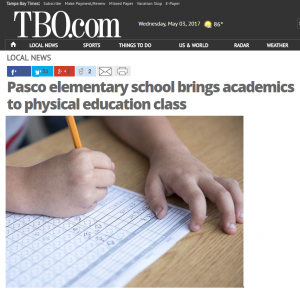 A Tampa Bay Times article on May 3rd describes how the physical education classes at Chester Taylor Elementary school in Pasco County, FL are using the Learner-Active, Technology-Infused Classroom to make physical education classes "more academic". The article noted that "more than just play a game, the children studied its history, calculated their statistics, designed uniforms, set team budgets and conducted trading based on salary caps, among other activities."
"We've shown them there are other opportunities within that sport you can be involved with and still learn the game," P.E. teacher Michael Johnson explained. "When you get into each sport, your standards are around learning that sport. We want to take it a step further."
"Chester Taylor Elementary adopted the "Learner Active, Technology-Infused Classroom" system three years ago, when it faced the threat of a state-mandated turnaround plan for consistently low student performance on state tests", describes the article. "The school quickly saw improvements in student test scores with its initial foray — its fourth-graders soon outperformed the state average — and has been expanding it since".
Read the full Tampa Bay News article here: http://www.tbo.com/news/education/k12/pasco-elementary-school-brings-academics-to-physical-education-class/2322280
Learn more about the Learner-Active, Technology-Infused Classroom.
Founded by Dr. Nancy Sulla, IDE Corp. offers a comprehensive instructional model that is the synthesis of the best research available on student achievement. IDE consultants work with school districts around the country to help them shift paradigms and design new approaches to instruction.  IDE Corp. has been providing instructional and organizational consulting to schools since 1987.