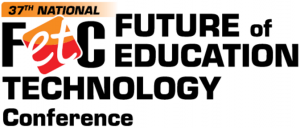 IDE Corp. is pleased to announce that it has been selected for two presentations with Pasco County Schools at the 37th Annual Future of Education Technology Conference. FETC, which is described as "the largest, national, independent education technology conference, annually attracts thousands of education and technology leaders from around the world" will be held at the Orange County Convention Center in Orlando, FL from January 24th to 27th, 2017. Please visit us and send your colleagues to see us in booth 2440!
1) Dr. Nancy Sulla is presenting with Vanessa Hilton, Assistant Superintendent of Student Achievement, Pasco County Schools in session W081: Using Systems Theory to Accelerate Your Technology Initiative on Thursday, January 26, from 2:00 – 4:30 at the Hyatt Regency in Bayhill 29.
2) Tanya Bosco is presenting with Pasco County Schools' Sanders Memorial STEAM Magnet Elementary School Principal Jason Petry and Assistant Principal Kelly Edwards in session PS155: Designing a Learner-Active STEAM Magnet Elementary School: Stories from the Change Process on Thursday, January 26, from 2:30 – 3:30 in booth #2500 in the Convention Center.
3) And, see Sanders' Memorial STEAM Magnet Elementary School Third Grade Teachers Tanya Kindberg and Megan Bender present from the teacher perspective of teaching in a STEAM-LATIC school in Session PS032: Learner-Active, Technology-Infused Classrooms: Recipe for Success on Thursday, January 26 from 2:30 – 3:30 in booth #965 in the Convention Center.
Founded by Dr. Nancy Sulla, IDE Corp. offers a comprehensive instructional model that is the synthesis of the best research available on student achievement. IDE consultants work with school districts around the country to help them shift paradigms and design new approaches to instruction.  IDE Corp. has been providing instructional and organizational consulting to schools since 1987.