I hope it's been a great week of taking time to stop and thank a teacher! As this "focus" week comes to a close, let's continue to remember how important teachers are to creating the future.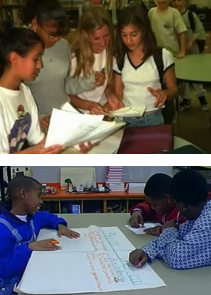 As schools struggle with working to improve student achievement, the reaction seems to be teacher-proofing instruction: providing highly scripted textbooks, schoolwide pacing guides, printed curricular modules of lessons, and so forth. This can lead to teachers becoming human automatons and students becoming compliant order-followers.
When you walk into a Learner-Active, Technology-Infused Classroom, you see an environment in which students are taking charge of their own learning. Often, it's hard to even find the teacher sitting among the students. But make no mistake, this powerful learning environment only emerges by the hand of a masterful teacher who serves as both architect and facilitator.
It takes hard work, time, and mental energy to design this classroom. It's easier to deliver content than it is to create the conditions under which students will learn. We at IDE Corp. are fortunate enough to work with teachers every day who are taking on the challenge of making purposeful and deliberate decisions to design powerful instructional environments that are producing amazing results.
The Learner-Active, Technology-Infused Classroom teacher is the epitome of the master teacher who:
Understands content at a deep level
Understands how children learn
Creates powerful pathways for students to travel to construct meaning
Empowers students to self-assess, set goals, and manage time using carefully crafted structures put in place by the teacher
The teacher considers the curriculum and identifies, or has students identify, authentic, open-ended problems to energize and inspire students to learn in order to solve the problems, establishing high expectations for academic rigor.
Rather than attempting to overtly control students, the masterful Learner-Active, Technology-Infused Classroom teacher creates meaningful, respectful structures that enable students to take responsibility for their own learning. As students engage in the learning process, the teacher facilitates by asking questions that probe student thinking, pushing them to higher levels of understanding and metacognition. They gather formative assessment data and plan learning activities and small-group mini-lessons based on the data. They believe it's their responsibility to ensure that all students learn through rich and diverse learning activities to match cognitive levels and learning styles, and they don't take that responsibility lightly.
The Learner-Active, Technology-Infused Classroom honors teachers' knowledge of content and the learning process and challenges them to design the most amazing "bridge" ever — each classroom slightly different from the next, reflecting the unique personality of a teacher. There's no "teacher-proofing" the Learner-Active, Technology-Infused Classroom — the teacher is everything! It's just that from a student's perspective, they think they're doing it all themselves. 🙂

We are so fortunate to work with thousands of amazing teachers who are continually innovating by redesigning their classrooms to provide the best learning environment for their students.
On behalf of all of us at IDE Corp., I want to thank our client teachers for partnering with us to make a difference, one student at a time. We want you to know how much we appreciate all of your enthusiasm, dedication, expertise, experience, and hard work. And for those with whom we've not had the pleasure of working, we hope someday we will, and we thank you for all that you do to contribute to the advancement of your students.
HAPPY TEACHER APPRECIATION WEEK!!!!