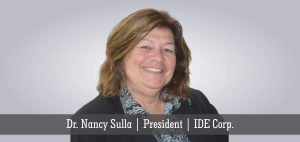 IDE Corp. is pleased to announce that Dr. Nancy Sulla has been selected to "30 Most Inspirational Leaders in Business" in the April 2017 issue of Insights Success magazine.
Nancy believes that the most important characteristic that every leader should possess is empathy: the ability to put yourself into another's situation and understand how they are affected by a situation. She says, "It's about serving others and helping them be all that they can be."
The article recounts how Nancy, to help her struggling middle school math students, had to rethink what a learning environment should look like. She designed the Learner-Active, Technology-Infused Classroom and realized that if she were going to make an impact on the world, she would need to share this model widely through her own company.
One of the most important decisions Nancy has to make, according to the article, is how far to push people out of their comfort zones to realize new realities; this applies to clients, prospective clients, and employees. Nancy keeps a quote by Antoine de Saint-Exupéry in mind — "If you want to build a ship, don't drum up people to collect wood and don't assign them tasks and work, but rather teach them to long for the endless immensity of the sea."
Read the entire article here: http://www.insightssuccess.com/dr-nancy-sulla-accessible-personality-with-an-innovative-mind/
Learn more about the Learner-Active, Technology-Infused Classroom.
Founded by Dr. Nancy Sulla, IDE Corp. offers a comprehensive instructional model that is the synthesis of the best research available on student achievement. IDE consultants work with school districts around the country to help them shift paradigms and design new approaches to instruction.  IDE Corp. has been providing instructional and organizational consulting to schools since 1987.