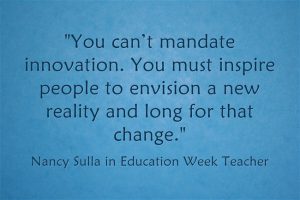 On March 28, 2017, Larry Ferlazzo asked, "How can we close the gap between new ideas and implementation?" Dr. Nancy Sulla responded and spoke to the "disconnect between those who conceive of ideas and those who are expected to implement them."
See the full article on the Education Week website.
Dr. Nancy Sulla is the Founder and President of IDE Corp. — Innovative Designs for Education — an educational consulting firm focusing on instructional innovation. She is the creator of the Learner-Active, Technology-Infused Classroom, taking a systems approach to creating student-centered, problem-based classrooms. Dr. Sulla is also the author of two books: It's Not What You Teach But How: Making the CCSS Work for You and Students Taking Charge: Inside the Learner-Active, Technology-Infused Classroom.
IDE Corp. offers a comprehensive instructional model that is the synthesis of the best research available on student achievement. IDE consultants work with school districts around the country to help them shift paradigms and design new approaches to instruction. IDE Corp. has been providing instructional and organizational consulting to schools since 1987.