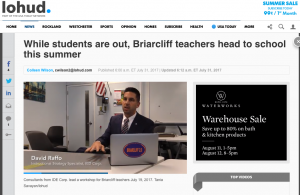 Briarcliff Manor teachers have been spending the summer training with IDE Corp. to learn to teach with a learner-active approach that better supports their new technology-infused classrooms.  High school teacher Robert Saar says, "You can't have classes that just feed them (students) facts because what value does that have in terms of expanding their minds?"
Briarcliff Superintendent Jim Kaishian explains, "We're moving toward the ability to sort of take this information that is readily available and utilizing it so that they can be information-literate, collaborative, and productive". Kaishian describes how teachers are "developing strategies to give students more ownership over mastering the content, and creating a curriculum with problems and topics they may encounter in their lives". IDE Corp. consultant Dave Raffo says, "Today's students will be more likely to retain the information if they care about what they're learning".
Read the full article here.
Learn more about the Learner-Active, Technology-Infused Classroom.
Founded by Dr. Nancy Sulla, IDE Corp. offers a comprehensive instructional model that is the synthesis of the best research available on student achievement. IDE consultants work with school districts around the country to help them shift paradigms and design new approaches to instruction.  IDE Corp. has been providing instructional and organizational consulting to schools since 1987.