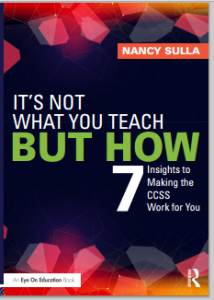 How do we prepare students to become problem-finders, innovators, and entrepreneurs who can thrive in a global society?
The Common Core charts a pathway to success, yet we know that checking off each standard one by one will not achieve the kind of results we want. This powerful book by bestselling author Nancy Sulla has the answers. She explains how teachers can bring students to deeper levels of learning by shifting from the what to the how of the CCSS. She offers seven insights that you can use to teach the standards in a more meaningful way, to bring all of your students to true understanding and application. Throughout the book, you'll find a variety of practical examples from across the curriculum, as well as "Your Turn" opportunities to help you try the ideas in your own classroom. The future may not be easily defined, but it can be shaped by teachers who are right now preparing the next generation of world citizens.
Click here to read chapter 1 of It's Not What You Teach, But How: 7 Insights to Making the CCSS Work for You by Dr. Nancy Sulla
Purchase your copy: It's Not What You Teach But How: 7 Insights to Making the CCSS Work for You by Dr. Nancy Sulla is available through Routledge or Amazon.com
---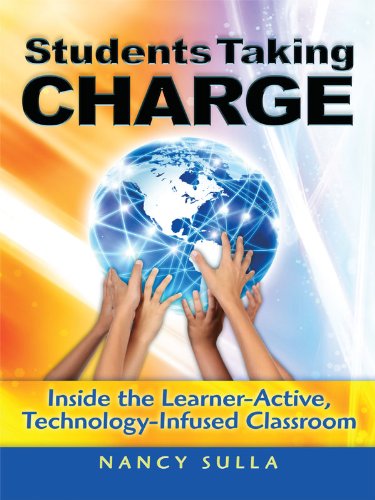 Design innovative learning environments that engage students in learning, build greater responsibility in the classroom, and raise academic rigor.
Imagine a learning environment in which students pose questions and actively seek answers. They decide how they will use their time; take charge of setting and achieving goals; and work individually to build skills and collaboratively develop solutions to real-world problems. Computer technology is used throughout the day, seamlessly, as students and teachers need it: from handheld devices to laptops to interactive whiteboards. Students walk over to a flat-screen monitor on the wall and talk to students in another part of the world. Teachers move around the room, sitting with students who share their accomplishments, asking probing questions and gathering assessment data that will shape tomorrow's instructional plans. You hear students talking about content; their vocabulary is sophisticated for their grade level; their thinking processes are evident through their discussions and reflections. They are intent on the task at hand, yet not everyone is working on the same thing at the same time. No one is off task; no one is misbehaving. Every now and then you hear a cheer or a student exclaim, "I got it!" as they excitedly dive into the next phase of a project. They pack up certain activities and move on to others without the prompting of the teacher. No one watches the clock; no one wants to leave. This is a snapshot of the Learner-Active, Technology-Infused Classroom™.
Click here to read chapter 1 of Students Taking Charge: Inside the Learner-Active, Technology-Infused Classroom by Dr. Nancy Sulla
Purchase your copy: Students Taking Charge: Inside the Learner-Active, Technology-Infused Classroom by Dr. Nancy Sulla is available through Routledge or Amazon.com