We're looking for the apple that stands out in the crowd …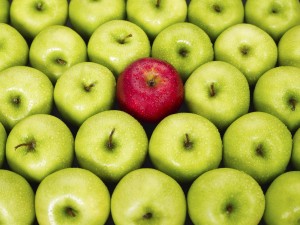 An educator who is passionate about teaching and learning and wants to make a difference in the world of education, one teacher at a time … that apple that stands out from the rest!
IDE Corp. consultants, who we call Instructional Strategies Specialists, provide professional development through workshops and in-class coaching to educators, particularly embracing our instructional model: the Learner-Active, Technology-Infused Classroom.
We seek consultants who possess strong pedagogical, communication, and interpersonal skills. Our work is as much about moving people through a change process as it is about presenting new strategies and structures, so our Instructional Strategies Specialists need the kind of personality, savvy, and skills to effect change. The role of an Instructional Strategies Specialist is to provide inspiration, training, resources, and support to educators in rethinking and reinventing instruction.
We're living in exponential times in education … How fast do you think? How big is your smile? How much do you love to learn? How well do you collaborate? How big are your dreams? If you're looking to become part of a team making a difference in how the world learns … well, that's what we're doing here at IDE Corp.
Join an ELITE team:
Empowerment
Leadership
Innovation
Teamwork
Excellence
Team IDE is a unique blending of talented individuals brought together by their passion for teaching and learning. Specializing in rethinking instruction to better prepare students for success in the 21st century, the consultants that make up Team IDE all have Master's or doctoral degrees in education, teaching certification, strong interpersonal skills, experience in student-centered learning. The preferred candidate possesses 7-12 years of teaching experience in a K-12 environment, is technology savvy, and is looking to make a long-term commitment.
We're looking for full-time individuals for urban/suburban and rural school projects in New Jersey, New York and Florida.
Are you our next starfish thrower?
---
IDE Corp. engages in a rigorous 4-step hiring process that includes having the candidate fill out a reflective, comprehensive application; engage in two interviews; and deliver a presentation to other team members.
Interested? To begin the process, please complete the initial candidate form below.