With co-author Lesley Perez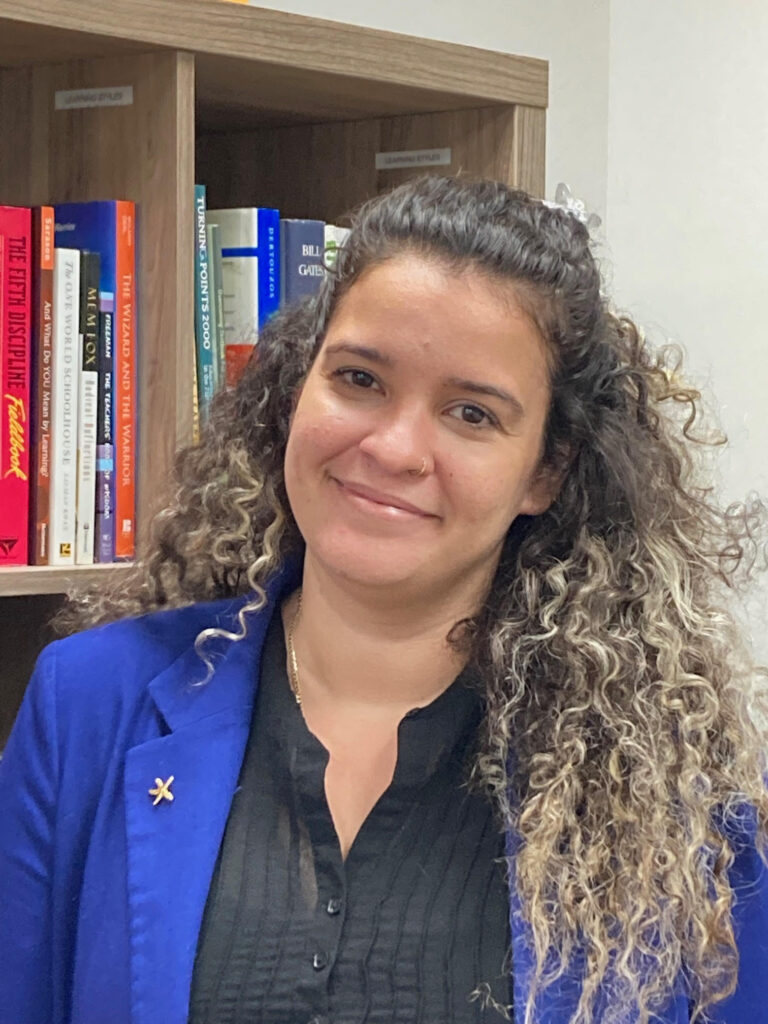 In 2019, more than 5 million English Language Learners (ELLs) were enrolled in public schools across the nation. According to the National Education Association, "By 2025, 1 out of 4 children in classrooms across the nation will be English Language Learners."
Schools have ENL (English as a New Language) services to provide instruction in language acquisition, but what happens when students are in classrooms outside of that instruction, expected to learn content in a language that is largely unfamiliar to them? And what about teachers who are challenged to teach their content while addressing the needs of ELLs?
IDE Corp.'s 7 Essential Elements for ELL Support are intended to help classroom teachers consider how they can support their ELLs so that they thrive in the classroom setting.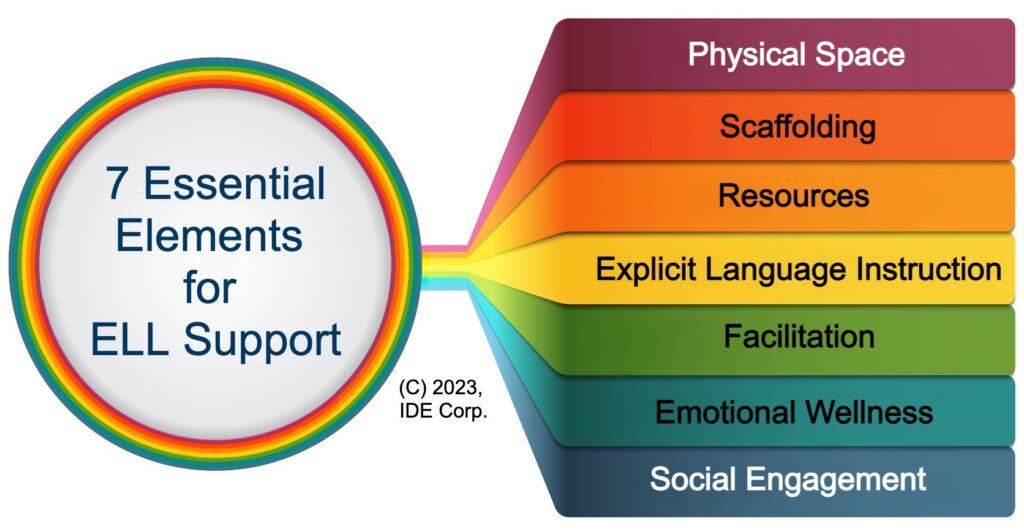 Here are just a few of the many structures and strategies teachers can use within each of the Essential Elements:
Physical Space — Ensure that the physical (or virtual) classroom space is welcoming, affirming, and supportive. Label items in the room; post anchor charts to support English language use; post flags and famous people from the native countries of your ELLs to celebrate their heritage. Add a word wall with terms that are relevant to your content area (translated, when possible). Make sure any expectations or procedures are visible so students can follow them. Set up the space so students can collaborate with peers.
Scaffolding — Build supports for students in tackling the work. Use visuals to help students with vocabulary; highlight or bold action words in directions to make it easier for students to understand what they are being asked to do. When possible, and depending on the student's level of English, offer a brief summary for longer/more complex text. Ensure that videos have closed captioning so students both hear and see the words. Likewise, for texts, offer an audio format. Provide sentence starters and frames for written work and to encourage conversation.
Resources — While scaffolding represents supports the teacher puts in place for students, resources are those that students draw upon as needed. These could include cognate lists (words that are similar in sound and meaning in two languages), Hi-Lo books (high interest for the age with lower-level vocabulary), visual dictionaries, graphic organizers, and optional sentence stems and frames.
Explicit Language Instruction — Although most ELLs have access to ENL teachers, there will be times when classroom teachers can best support ELLs by offering direct instruction in English language acquisition. This might mean helping the student with phonology (sounds that make up a language), morphology (how parts of words combine to change meaning), syntax (sentence formation), semantics (meaning of words, phrases, sentences, or text), and pragmatics (language in context).
Facilitation — When students are working independently of a teacher's lesson, it's important to facilitate learning with individuals and small groups. Ask questions along five levels of increasing higher-order thinking (comprehension, application, connection, synthesis, and metacognition); offer ELLs assistance in process, content, and language skills.
Emotional Wellness — Foster an atmosphere, through your actions and words, where students build confidence and resilience. Teach students stress reduction techniques. If you have more than one student in a classroom who speaks the same language, provide opportunities for them to discuss the content in their native language, giving them a comfort level. Respect the silent period, during which a student learning a new language does not produce oral language, by not putting pressure on students to speak, particularly in whole-class discussions. Check in with students and offer different ways for them to express themselves (graphics, images). Ensure that students have an opportunity to think and practice before sharing with the class; have them share with a partner before they share with the whole class. Get to know your students: Building relationships with students helps them to feel more comfortable in your class and, thus, to more easily engage in uncomfortable academic situations.
Social Engagement — Ensure students have ample time to engage with other students, where they will collectively listen, speak, read, and write about the content. Language acquisition is made easier when you're immersed in a situation where the new language is spoken by your peers, which is less intimidating than having to decipher what a teacher is saying in a lesson.
IDE Corp. and its sister company EdQuiddity Inc offer a variety of professional learning opportunities for teachers to delve more deeply into the "7 Essential Elements for ELL Support":
– Virtual Learning Communities — Online workshops facilitated by an IDE consultant. These take place over 2 weeks in summer or 5 weeks during the rest of the year. Each workshop involves approximately 25 hours of engagement. Participants work at times convenient for them and sign up to meet with their consultant and engage in activities with others in the workshop. Most importantly, we have a VLC on "Strategies for Supporting ELLs!"
– Professional Learning Experiences (PLEs) — Online, on-demand resources to engage an entire faculty in building a Culture of Professional Learning around a topic. These powerful resources can be used in faculty meetings, team/department/grade-level meetings, PLCs, teacher observations and follow-up, and by individuals for just-in-time support. Our PLE on "Strategies for Supporting ELLs" will launch in the fall of 2023, but is available for pre-sale now at a discounted rate.
– On-site or remote workshops: from 1 to 5 days, depending on your needs.
Contact Nicole Koch at solutions@idecorp.com or call us at 833-GO-LATIC.