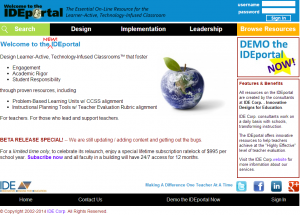 We are very excited and we know you will be too when you see the newly redesigned IDEportal, the Essential On-Line Resource for the Learner-Active, Technology-Infused Classroom.
The core Design, Implementation, and Leadership sections and the Resource Library provide instructional resources that support:
standards-based classrooms
teacher-evaluation models
Our improved search tool makes it much easier to find all of the resources that our clients and subscribers have always loved, and we've connected those to related materials to further the learning.
Subscribe now and all faculty in a building will have 24/7 access for 12 months anywhere, anytime, from any web-enabled device.
School Size
Price Per Year
A one year subscription to the

IDEportal

is based on school size using student population.
< 300 students
$1,525
301 – 600 students
$2,346
601 – 900 students
$3,162
901 – 1,400 students
$3,978
1,401 – 2,000 students
$4,896
> 2000 students
$5,610
Discount if ALL schools in a district subscribe:
10% for districts with 1-3 schools
20% for districts with 4-9 schools
30% for districts with 10 or more schools
Please call for university pricing. Available to all professors and students in the school of education.