"In a high-stakes educational environment, you need more than teacher training;"
you need a consultative professional development provider.
What We Do
IDE Corp. – Innovative Designs for Education – is a leader in visioning, designing, and implementing instructional and organizational models that empower all learners. 
We engage educators in continual reflective practice to shift paradigms and to transform the teaching/learning process.
What We Think
Looking for some summer reading for the educators in your life? Dr. Nancy Sulla's latest book, It's Not What You Teach But How – 7 Insights to Making the CCSS Work for You, is now available for pre-order!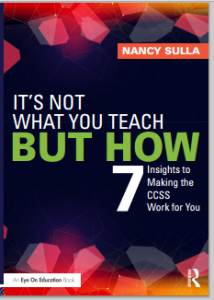 What We Hear